Release to the general public May 2017. 
About the Book
Why did John Lennon call an emergency meeting of The Beatles and Apple Records management to announce that he was Jesus Christ returned in the flesh? What drove Albert Einstein to pick cigarette butts up off of the street and smoke them rather than buy his own pack?
Why did Nikola Tesla try to turn dull students into bright students by flooding their classroom with electricity? Were Albert Einstein, John Lennon and Nikola Tesla insane or was their odd behavior a manifestation of their eccentrics natures?
From exploring the fascinating historical roots of eccentricity to examining the impact of eccentric individuals into the 21st century, the author utilizes 12 historical figures such as Albert Einstein, Winston Churchill, John Lennon, Lord Byron and Benjamin Franklin to name but a few and discovers a special ingredient, a 'secret sauce' that is the hallmark of eccentric people.
Whether eccentric people are innovative individuals who changed the world or everyday people who positively impact the lives of those around them, every eccentric person has in common the 'secret sauce' of eccentricity that you will discover in this book.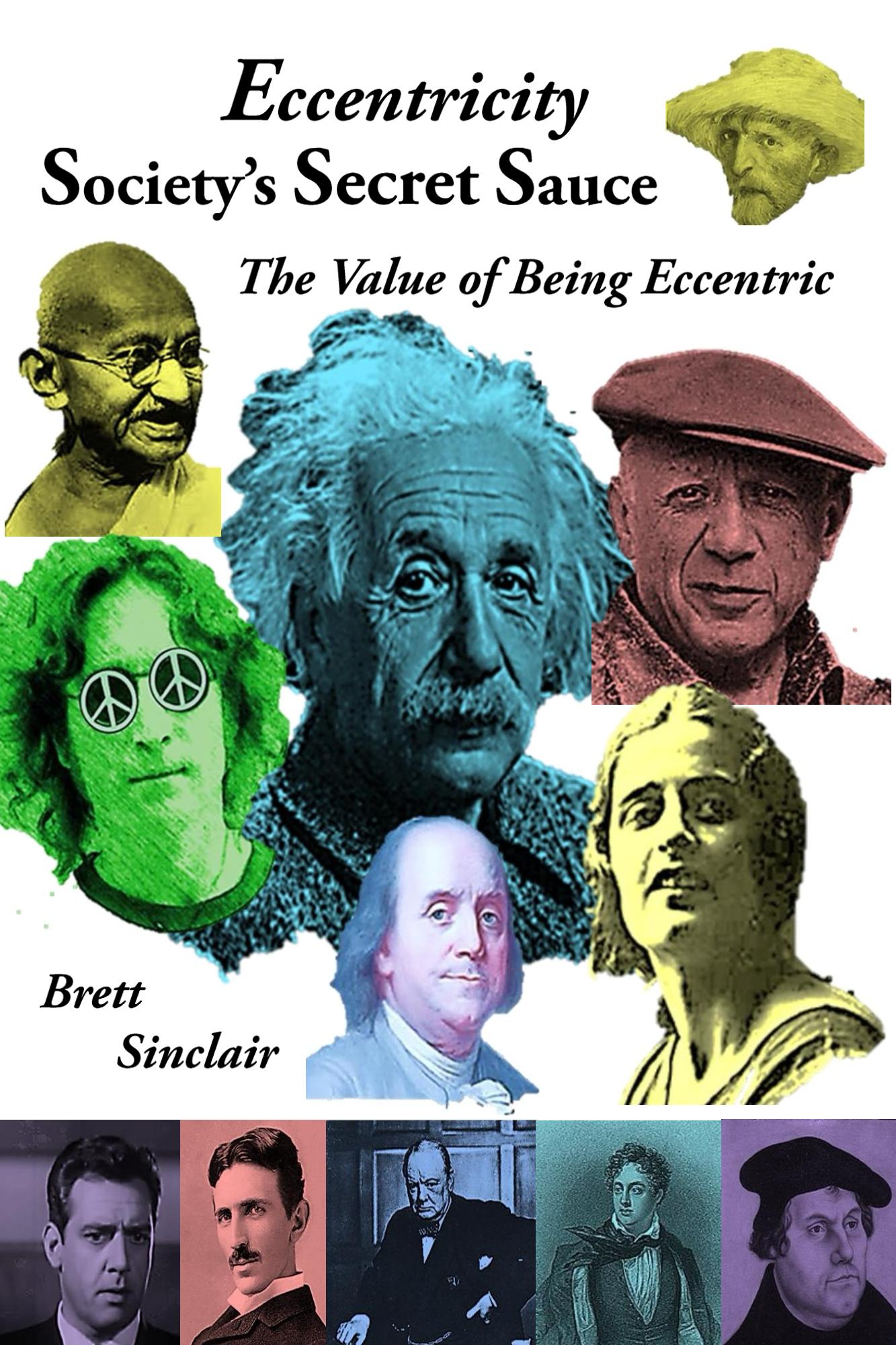 About the Author
Brett Sinclair has a Bachelor of Science in History and a J.D. from one of the Top 10 ranked law schools in the United States.  He has worked professionally both as an attorney and pilot for approximately 20 years, done graduate work in Communications and Political Science, and taught writing and public speaking at a major state university for one year.  He has traveled to over 55 countries on 5 continents, both on business and doing extensive volunteer work in Africa, India, Asia and South America.  He states,
I encountered countless accomplished yet eccentric people in my travels abroad and in the United States, and decided to write this book because I am passionate about the value of eccentric people and after discovering a paucity of books on this fascinating and timely subject.  The sub-title 'The Value of Being Eccentric' is itself a quasi-oxymoron because eccentric people have frequently not been highly regarded.  I use 12 historical figures including eccentrics like Lord Byron, Benjamin Franklin, Pablo Picasso, Winston Churchill, Nikola Tesla, Albert Einstein and John Lennon, to name but a few of the eccentric people examined, comparing the nexus of the facts of their lives with the presence of the essential attributes of eccentric people.
 This book is timely because although historical figures are utilized its exploration of eccentricity extends into and has ramifications for the 21st century.  Because eccentricity is often disparaged or incorrectly equated as synonymous with insanity, the author believes the contributions to the world made by these 12 people from diverse fields and the historical proof of their eccentricity provides a unique take on a subject very rarely examined.  He takes value in recognizing these eccentrics and understanding their positive contributions to the world.
Review and Comments
A Fascinating Insight into Eccentricity
By Clint on May 25, 2017
Format: Amazon Paperback| Verified Purchase
This is the first book dealing with the subject of eccentricity that recognizes that the numerous attributes postulated for the existence of eccentricity are not solely within the purview of psychological theories but must be connected to verifiable, historical facts of the lives of eccentric people. I learned much about the value of eccentric people in forging advancements in society and culture that would have been impossible absent the seven attributes of eccentricity that all genuine eccentrics share in common. Additionally, the emphasis placed on the positive impact that eccentric people who are not famous can have upon their family and friends if they are not rejected solely because of their eccentricity was a perceptive insight I was not expecting based upon the cover photos.
Fantastic observations and insights on some of Societies most intriguing people
By Jace Beleren on May 6, 2017
Format: Kindle Edition| Verified Purchase
I picked this book up on a bit of a whim and I'm really glad I did. It's a topic that I haven't seen discussed before. Now I wonder why it hasn't been. The author has chosen some fascinating individuals to analyze and does so with great skill. Besides being a truly entertaining read, it also helped my perceptions of myself. If you've ever felt out of place or a bit of an outsider in society, I couldn't recommend this book enough.
The few outside the box do make the biggest difference!
By Texastransplant on March 7, 2017
Format: Amazon Paperback Purchaser
History is always a fascinating study; it is always the smallest number of out of the box thinkers that have the largest impact on changing the fate of mankind. This was a really fun read! Well researched and very interesting stories. Helped me take a different view of my own eccentricities- Thoroughly enjoyed it!
There is a Thin Line between Sanity and Eccentric
By Amazon Customer on April 6, 2017
Format: Paperback
I obtained a publisher's proof of this book. What an amazing book. I truly enjoyed how the author began by explaining the nature of being ECCENTRIC and blending this into what he defines as Society's Secret Sauce. When I started reading the chapters of the twelve individuals the author chose to describe, I couldn't put the book down. I stayed up into the wee hours of the night finishing the book. Hopefully the author will write a second volume, choosing another group of unique and eccentric people.Trump, Gates, Buffet, Kevorkian to name but a few. Hat's off to you Brett Sinclair, keep writing.
Sample Excerpt from the Book
Chapter 18
JOHN LENNON
 "Part of me would like to be accepted by all facets of society and not be
this loudmouthed lunatic musician. But I cannot be what I am not."
 John Lennon
John Lennon (Born John Winston Lennon, October 9, 1940, Died December 8, 1980) was an English singer, guitarist and songwriter who is primarily remembered as a member of the The Beatles, the most commercially successful band in the history of popular music.  Lennon founded The Beatles and along with fellow member Paul McCartney formed a celebrated songwriting partnership. John Lennon also played a significant role in the counterculture of the 1960s and 1970s and the peace movement that evolved out of it. He had a pervasive and widespread influence not only on music but the world, and much has already been written about his vast, innovative and myriad contributions to music, culture and society. The facts of John Lennon's life are herein presented in the same biographical synopsis format utilized previously that focused on salient biographical information in order to explore the nexus between the facts of Lennon's life and the seven attributes of eccentric people.
Lennon was idolized by his fans and is still a revered musical and cultural figure. This is reflected by the fact that some of the biographies written about Lennon extolled his virtues while minimizing his flaws. Accordingly, John Lennon can herein be much better understood by not adhering to a strictly chronological presentation of his life. So, let's begin in an arguably unusual way by examining some of John Lennon's faults, flaws and foibles before getting to his much celebrated musical genius and his advocacy of peace and love.
Lennon was so unfaithful to his wife Cynthia that out of guilt he eventually confessed to her that he had slept with hundreds of women, including mutual friends of theirs. Hardly the paradigm for an upstanding father, throughout John Lennon's lifetime he largely ignored his first born child and son Julian Lennon despite Julian's numerous attempts over the years to establish a relationship with his father. John Lennon was solely responsible for his estrangement from his son Julian, a separation that lasted until the day John Lennon died. Lennon's callous indifference to his son Julian had such an impact on Julian Lennon that the day John Lennon was pronounced dead in a New York City hospital, when John's wife Yoko Ono phoned 17 year old Julian and asked him if he wanted to view his father's lifeless body, Julian declined to do so.
John Lennon also had a cruel streak to his sarcastic and acerbic sense of humor that caused a lot of pain to other people, especially his closest friends, including the other three Beatles. He was also during periods of his life an egomaniac, as well as an addled heroin addict.
Born and raised in Liverpool, England Lennon became involved in the skiffle craze as a teenager; his first band, the Quarrymen, was formed in 1956 and evolved into the Silver Beatles and in 1960 'The Beatles'. Today people remember John Lennon in the context of The Beatles' commercial success as a band, but The Beatles spent seven years together performing mostly cover songs prior to the release of their first record, Love Me Do, in 1963. During those lean years before they became successful, when The Beatles became discouraged it was always John Lennon who acted as a ballast, and whose confident spirit brought encouragement to the other three Beatles, which he would often provide by leading them in a semi comical chant:  "Where are we going boys? To the toppermost of the poppermost!" You may recall that one of the four benefits of being eccentric is the fact that eccentrics possess a confident spirit that brings encouragement to those whose lives they touch.
When the group disbanded in 1970 and ceased creating music together as a four piece band, Lennon embarked on a solo career. As a solo artist John Lennon wrote and recorded many critically acclaimed songs and albums, such as the albums John Lennon/Plastic Ono Band and Imagine, and numerous iconic songs such as 'Give Peace a Chance', 'Instant Karma', 'Working Class Hero', 'Happy Christmas' and "Imagine' to name but a very few.  Other fans of his music undoubtably have their own favorite songs and albums that John Lennon recorded during his post-Beatles musical career; like all music, the musical quality of the songs he wrote are not defined simply on the basis of their commercial success because musical appreciation is very subjective in nature.
Subsequent to his marriage to Yoko Ono in 1969, he changed his name to John Ono Lennon. Having fulfilled his contractual obligations with EMI Records and Capitol Records in 1975, Lennon disengaged himself from the business of writing and recording music for commercial release for a period of almost five years because he wanted to devote his time to raising his newborn second son, Sean Lennon. Lennon returned to making music five years later in 1980 as a solo artist with his double album named Double Fantasy. Though the album topped the charts, many believe this was a result of Lennon's death a short while after the release of Double Fantasy. Critics and fans alike judged the album inferior to the songs he created and recorded with The Beatles and during his post Beatles career as a solo artist. John Lennon was brutally murdered by being shot to death execution style by a deranged fan on the sidewalk leading to his home in the Dakota Apartments in New York City less than a month after the release of Double Fantasy and ironically only a few days after he signed a copy of Double Fantasy for his murderer.
Lennon revealed a rebellious nature and a brilliant and at times caustic and biting wit from childhood that remained an integral part of his personality throughout his life. John Lennon was also opinionated and outspoken since childhood. Eventually his nonconformist nature gained a worldwide audience beginning in 1963 with The Beatles first #1 Billboard hit, Please Please Me. Throughout John Lennon's tenure with The Beatles, Lennon's idealistic belief in love and harmony was reflected through his music. He became controversial around 1965 for his comments on Jesus and Christianity and again in 1967, this time primarily as a result of his use of LSD and his newly found interest in transcendental meditation.
Lennon was an intensely curious individual. If you think about it, curiosity is always a precursor to questioning the prevailing status quo and evolving into a nonconformist. John Lennon's curiosity led him to a lifelong earnest quest in search of spiritual enlightenment that manifested itself in a very public way when he and the three other Beatles spent a lengthy period of time in India with the Maharishi Mahesh Yogi to further their spiritual understanding of life. Incidentally, despite rampant speculation through the years, the Maharishi Yogi was not related to Yogi the Bear who advocates for fire prevention, or to Yogi Berra, the longtime catcher for the New York Yankees.
The previous bit of levity was not intended to cast aspersions upon anyone but to illustrate the excellent and unusual sense of humor John Lennon possessed. He would frequently deploy inane humor not dissimilar to the absurd statement made implicating the fictional cartoon character Yogi Bear and Yogi Berra with Maharishi Yogi. Lennon had a brilliant mind and recognized that his sense of humor could be incisively caustic and hurt other people. He often defused any hurt feelings he caused by his unusual sense of humor through the use of nonsensical humorous statements.
Like anyone John Lennon had many sides to him. Here are just a few quotations of John Lennon's that exemplified his mischievous and quirky sense of humor as well as his unconventional but loving spirit:
 "Part of me suspects that I'm a loser, and the other part of me thinks I'm God Almighty."
 "I believe time wounds all heels."
 "As usual, there is a great woman behind every idiot."
 "Everything is dearer when you're in love."
 "If everyone demanded peace instead of another television set, then there'd be peace."
 "The more real you get the more unreal the world gets."
 "Being honest may not get you a lot of friends but it'll always get you the right ones."
 "It matters not who you love, where you love, when you love or how you love. It only matters that you love."
"When I went to school, they asked me what I wanted to be when I grew up. I wrote down 'happy'. They told me I didn't understand the assignment, and I told them they didn't understand life."
Close boyhood and lifetime friend Pete Shotton had this to say about his friend John Lennon:
"John was an exceptionally cocky kid who demonstrated precious little respect for his elders and invariably said exactly what he thought. By the age of nine or ten, he had already honed his now legendary 'rapier wit' to the point that he could usually provide our parents–or anyone else–with a devastating rejoinder whenever they attempted to put him in his place. John was amusing virtually all the time. In my company, his humor was often deadpan in the extreme; he could make me laugh with just a word, a subtle inflection in his voice, or an almost imperceptible gesture.
 "John instinctively gravitated toward the center of attention, and his powerful personality always guaranteed him a large and admiring audience. John was our resident comic and philosopher, outlaw and star. In retrospect, one might say that John, even as a child, viewed the world almost as a surrealistic carnival. Life, to him, was a never ending stage play, and he would discover something bizarre in even the most mundane event. Whether an active participant or simply an observer, John would deliver a running commentary on his surroundings, his precociously caustic remarks underscored by an impish glint in his pale brown eyes."
Book Listing
List Price: $9.95 USD
Size: 6.14″ x 9.21″ (15.596 x 23.393 cm)
Paperback: Black & White on White paper
Length: 170 pages
ISBN-13: 978-0997560350
ASIN: B06XFFH48W
Text-to-Speech: Enabled
BISAC:
Psychology & Counseling > Personality
Counseling & Psychology > Creativity & Genius
Counseling & Psychology > Social Psychology & Interactions